Madam S and Dominic, carefully monitored Stephanie and Slave as they finalised the painting of what would known as "The Chambers" room. A deep classical red contrasting well with the heavy black curtains they would be installing.
---
---
Dominic had built a wooden corner confinement area, complete with gnarly metal hooks for fastening the prospective clients in. Against one wall was a magnificent St Andrew Cross, also hand constructed by Dominic, each timber edge had hundreds of metal eyelets and ankle and wrist cuffs to secure "willing" participants by the top and bottom ends of the cross.
Against one wall was a steel cage, enough for one or two people, lockable, of course and with a removable cushioned lid as an additional bondage option.
---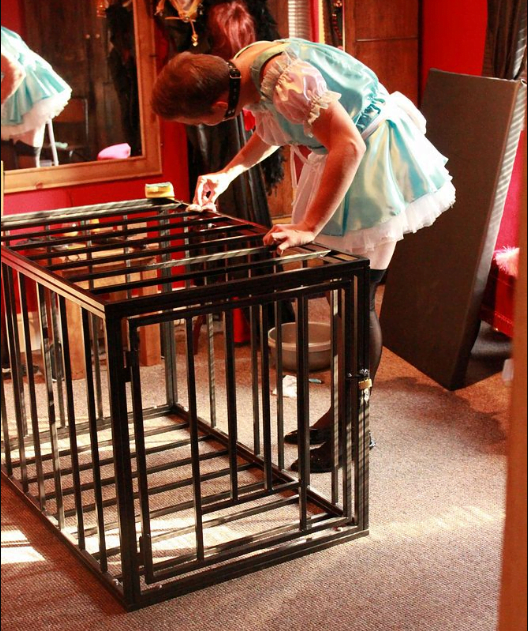 ---
A large massage table had been constructed and modified to have many points for hooking, chaining and tethering of subjects.
"So, Dominic…what's next on your list" Madam S enquired.
"The plan is to let our loyal patrons know the facility is ready for bookings and also I want to build a cot…"
Madam S looked shocked "Oooh Dominic, are we planning a family?"
Dominic laughed "Errrmmm…not quite now, I thought we could set the smallest room for Adult Babies…"
"Ah, I see…..where are you getting an adult sized cot from?"
"I am designing and building it myself…I bought the necessary wood with that first batch we had."
Stephanie and Slave, completed their tasks for the day and presented themselves for further directions.
Madam S checked the work they had done and that they had made themselves clean and tidy to be allowed to leave for the day.
"Dominic will be doing more woodwork over the next few days so you will both required to assist and for clean-ups ….and Stephanie, think up some lovely meal to cook us tomorrow evening."
"Yes, Madam, thank You Madam" they responded in unison, heads bowed.
"Now off you go".
They turned on and swiftly, but quietly departed.
---